Kitchens have been called the heart of the home, and with good reason. Today's kitchens are places for cooking, eating, doing homework and gathering with family and friends. We spend a lot of time in our modern kitchens and with today's open floor plans it's worth the investment to have a beautifully designed and decorated kitchen.
While we are skilled in all aspects of kitchen remodeling, we have found that many of our clients don't need to start over to make their kitchen modern and user friendly. They prefer to 'freshen up' the kitchen instead. This means keeping the basic structure of the existing room, tweaking the layout and cabinets, and then redoing all of the surfaces that contribute to the décor of the kitchen.
A typical kitchen update may include: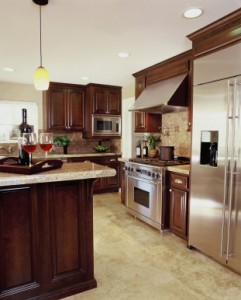 Granite countertops
Stone or tile backsplashes
Updated Appliances
Modern Flooring
Upgraded Lighting
Cabinet modifications
Faux painted walls
Crown Molding
Please browse our gallery to see samples of our work and get ideas for your own kitchen update.