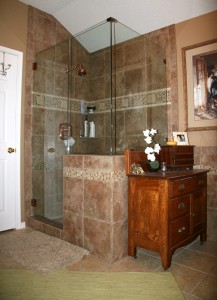 Bathrooms are one of the most frequently remodeled rooms in the house. And with good reason!
The bathroom is the workhorse of the home. Imagine the wear and tear wrought upon a room that spends its days filled with running water, splashing water and hot steamy air. I could mention the need for a good exhaust fan here, and we can certainly help you with that, but I'll leave that topic for another day.
Where there is water and steam there is bound to be moisture damage, mildew and mold. Especially in the shower, and especially the showers that builders have put into homes in the last 20 years or so. Until recently, most builders in our area used green board as a base for shower walls, therefore it is not surprising that mildew, mold and water damage are common within just a few years. Glass shower surrounds get caked with hard water stains and mineral build-up and become unsightly, as do shower and tub fixtures. And what's up with those plastic shower pans? After a while, it seems that you just can't get them clean.
If you're ready to get rid of the old bathroom and build a better, more durable, more beautiful bathroom, then you have come to the right place.
We will help you through the entire process, from the initial consultation to the finished installation. We will guide you ever step of the way.
Please take a look around our bathroom galleries and posts and see what we have done for other clients. We know you will love what you see, and perhaps you'll find the solution that you have been looking for.